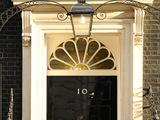 The changing state of play in British politics has tonight led to last-minute schedule changes on BBC One.
As Labour's
Gordon Brown
officially tendered his resignation and Conservative Party leader David Cameron became the UK's new prime minister, the network switched to breaking news coverage and the planned lineup was abandoned.
The broadcaster began transmitting a BBC News channel simulcast fronted by David Dimbleby as Brown announced his decision to stand down. The special coverage took the place of scheduled episodes of
EastEnders
and
Holby City
before drawing to a close at 9pm, allowing crime drama
Luther
to air as intended.
ITV1, meanwhile, chose not to run with a news special and instead aired
Children's Hospital
and
Who Wants To Be A Millionaire?
as planned at 7.30pm and 8pm. However, a short update hosted by Mark Austin aired just before
The Bill
at 9pm. Additionally, earlier in the evening, ITV's 6pm regional news update was scrapped to provide extended coverage as Brown's resignation looked likely.
BBC Two, Channel 4 and Five have tonight stuck with regularly scheduled programming.
Meanwhile, CNN International has cancelled its regular news coverage in order to provide updates on the UK's shift in power.