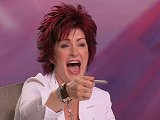 The second series of
The X Factor
is shaping up to be another mammoth hit.
Saturday night's third episode was watched by an average of 7.57 million viewers, a 44.1% share of the TV audience. The figures are up from 6.8 million (34.6%) for the equivalent episode last year and also up from last week's 7.23 million (40.4%).
Once again the success carried over to multichannel homes, with an average of 1.51 million (11.2%) tuning in for ITV2 spinoff
The Xtra Factor
.
Other big hitters on Saturday night included a repeat of
My Family
, which had 5.07 million (25.5%) to rank fourth for the day, and a 'Cops and Robbers' themed
Millionaire
, with 4.42 million (22.6%) and fifth place.
Five hit a peak audience of 2.79 million (14.2%) for a 9pm repeat of
CSI
, compared to Channel 4's 1.57 million (10%) for the three-hour countdown
The Ultimate Film
.
Sky Sports' coverage of the Wales-England World Cup qualifier had 1.67 million (26.7%) from 2pm, with the proceeding game between Scotland and Italy drawing 986,000 (10.2%).
Sky Movies enjoyed a strong night, with an audience of 314,000 (2.5%) for the premiere of
Spider-Man 2
. At least 356,000 more caught the film via multistart on Sky Movies 3.