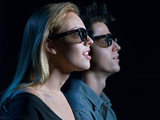 Discovery
Communications Europe has secured a UK broadcast licence for the Discovery 3D channel.
In its latest Broadcast Licencing Update, media regulator Ofcom has awarded a Digital Television Programme Service licence for Discovery 3D, although that does not mean a launch is imminent.
In January, Discovery
announced plans
to establish a 3D channel in the US as a collaboration with Sony and cinema chain IMAX.
The channel will run a 24/7 schedule of natural history, engineering, science and technology programmes in 3D, with a US launch scheduled for next year.
Despite gaining a licence for Discovery 3D, it's unclear whether Discovery will actually forge ahead with a UK launch for the channel either this year or in 2011.
Yesterday, Discovery chief executive David Zaslav said that the firm is investing "at a relatively small level" in 3D purely to gain a "first mover advantage", reports
USA Today
.
Discovery may wait to see whether UK sales of 3D television sets start to pick up, or gauge the consumer demand for other 3D channels and content.
Sky is so far the only broadcaster in the UK to commit to launching an actual 3D channel, with Sky 3D to
become available
to residential subscribers on October 1.