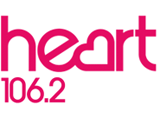 The Global Radio-owned Heart 106.2 has reclaimed the London commercial radio top spot in the second quarter of 2010, after passing 2 million listeners for the first time.
According to data compiled by radio audience measurement body RAJAR, Heart's average weekly audience grew to 2.185m listeners in the three months to June 27. That figure was up 15.9% year-on-year and 15.2% quarter-on-quarter, with an overall share of 5.1%.
After leading the London commercial sector in the first quarter, Bauer Media's Magic 105.4 slipped behind Heart, with its weekly reach standing at 2.046m listeners, up 2% on the previous quarter but down 0.4% year-on-year.
However, Magic actually increased its audience share by 8.5% quarter-on-quarter to 6.4%, keeping it ahead of Kiss 100 (5.6%), Heart (5.1%) and Capital (4.9%) in the London standings.
95.8 Capital FM pulled in an average of 1.921m listeners a week over the three month period, up 0.9% quarter-on-quarter, but down 1.6% year-on-year.
Johnny Vaughan and Lisa Snowdon's Capital breakfast show retained its position as London's most popular breakfast programme, despite its weekly listeners falling slightly to 1.12m from 1.162m in the previous quarter.
The Heart breakfast show, which is presented by Jamie Theakston and Harriet Scott, increased its average weekly audience from 798,000 to 925,000 over the quarter.
Bauer Radio's Kiss 100 attracted an average weekly audience of 1.85m, up 3.6% year-on-year and 10.9% quarter-on-quarter. Rickie, Melvin & Charlie's Kiss 100 breakfast show increased its audience by 38% quarter-on-quarter to 903,000.
LBC 97.3 saw its weekly reach increase 22% year-on-year to 960,000, while Global Radio's Xfm drew 553,000 listeners, with a 1.4% share.
Smooth Radio attracted 415,000 listeners, down 32.5% year-on-year and 13.4% quarter-on-quarter. BBC London 94.9 reached 507,000 listeners, down 9.3% year-on-year.