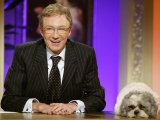 Paul O'Grady's teatime talkshow has passed the 3 million mark this week.
The figure represents an increase of more than half a million viewers in recent weeks and is almost double the audience the show pulled in on its debut a year ago.
Thursday's edition drew an average of 3.18 million, a 21.3% audience share, in the 5pm hour but was still narrowly pipped by BBC Two's
Weakest Link
, which had 3.21 million (20.4%).
Neighbours
was still the slot leader with 3.24 million (19.5%) for BBC One from 5.35pm, while on Channel 4,
Richard and Judy
had just 1.56 million (10.4%).
EastEnders
was the day's top performer with 11.83 million (52.3%), keeping
Emmerdale
in second on 8.84 million (43%).
ITV1 took the lead at 8pm, with
The Bill
averaging 6.81 million (28.8%) and fourth place for the day. BBC One's
Bleak House
held a steady 5.59 million (23.9%) before ratings dropped off to 4.46 million (18.7%) for
The Queen's Cavalry
.
Gordon Ramsay's F Word
delivered 2.44 million (10.4%) for Channel 4, just ahead of BBC Two's
Restored to Glory
with 2.2 million (9.3%). Five's
How Not to Decorate
mustered 1.24 million (5.2%) for fifth place in the hour.
ITV improved its lead at 9pm, averaging 8.3 million (35.4%) for Martin Clunes drama
Doc Martin
despite tough competition (5.78 million, 24.7%) from BBC One's
Spooks
. Channel 4 was third with 1.87 million (8%) for the conclusion of
Wanted: New Mum and Dad
, leaving BBC Two (0.74 million, 3.1%) and Five (0.58 million, 2.5%) with embarrassing figures for
The Last Stand
and
Dream Business
.
BBC One edged back at 10pm with 5.03 million (25.4%) for its news bulletin while on ITV1, the Joan Collins-fronted celebration
The Avengers - Must See TV
settled for 3.03 million (15.3%). New comedy
Sensitive Skin
put in a promising 1.99 million (10.1%) for BBC Two and on C4, Travolta movie
Domestic Disturbance
averaged 1.94 million (13%) through 11.40pm. The pilot episode of
House, MD
drew 1.3 million (7.4%) to Five.
Repeats were flavour of the day in multichannel homes, with
Only Fools and Horses
managing a notable 371,000 (2.2%) for UKTV Gold from 9pm.
ITV2 movie
Red Heat
had 340,000 (2.4%) between 9pm and 11.05pm, while on sister channel ITV3, spinoff doc
Doc Martin - Behind the Scenes
enticed 311,000 (2.5%) in the 10pm hour.
Other notable performers included Sky One's
Secret Life of Suburbia
(285,000, 1.7%), Living TV's
CSI
(272,000, 3.8%) and Hallmark's
Law & Order: Special Victims Unit
(236,000, 1.9%).