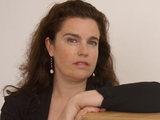 12.16pm:
Hello and welcome to our live coverage of the Edinburgh TV Festival. This is the first of several Controller Sessions, where the head honchos of the biggest TV channels assess their current health and future prospects.
12.18pm:
The first controller under the microscope is
Claudia Rosencrantz
, head of the Living TV Group of channels.
12.19pm:
In the room next door, my colleague James is liveblogging the slightly more colourful
Got To Dance
session. To be honest, I think he's pulled the short straw - the compere is Vernon Kay.
12.21pm:
If you feel inclined to interact with me during this session, add your comments using the form at the bottom. Are you a Living fan?
12.22pm:
The session finally gets underway. The moderator is
The Guardian
's Jane Martinson. A bit of background on Claudia: for ten years she reigned as director of entertainment at ITV, where she launched shows like
The X Factor
and
I'm A Celebrity
. She's been with Living since 2007 and now oversees their portfolio of channels, which has just been bought up by Sky.
12.23pm:
Some other interesting developments at LTV recently: they've just poached Katie Price from ITV2, and they've commissioned their first ever original drama for Living:
Bedlam
, starring Will Young.
12.27pm:
Rosencrantz says she loves Living's
Dating in the Dark
. "I cancelled
Blind Date
so I had a lot to answer for on the dating front," she notes. SHE WAS RESPONSIBLE? I'm tempted to just walk out now.
12.28pm:
Rosencrantz says the second season will air soon, and features a celebrity twist. "They're not necessarily celebrities, but the point is, they think they are." She also has praise for Bravo's
Spartacus
, which she describes as a "bold acquisition" for the channel.
12.30pm:
"Moving from ITV to Living, or Flextech as it was, I saw channels that had brand value. It was always very depressing at ITV when you'd ask viewers what channel an ITV programme was on, and they'd say BBC." She describes Living's previous brand value as "too narrow... it was known as the pink and paranormal channel".
12.32pm:
Voxpops on people's views on Living and Bravo. "Out of touch", "fir my mum" are among the responses. Fave programmes include
Grey's, Ghost Whisperer
...
Charmed
?! Peter Bazalgette pays tribute to Living's programming over the last twelve months, despite its limited budget.
12.34pm:
Rosencrantz says she doesn't really know what happens now Sky has bought the portfolio. "We have no contact whatsoever with our new owners, nor they with us, while this regulatory process goes through." She describes Sky as an "astonishing company" and says she would love to work there.
12.37pm:
She says that she's not thinking about what Sky might want for the channels. "You have to stay true to what the brands are."
12.39pm:
Does she fear for the future of Bravo? "I don't fear it because I think change is exciting. They have chosen to place massive marketing behind
Spartacus
and shows on the channel. Bravo has had an absolutely phenomenal year this year. I think it has a very different proposition to both Sky and FX. We've tried to drive those Freeview men into pay who've been resisting so far, and we've had success in doing that."
12.40pm:
Would she like to commission for Sky channels? "I'd like to be prime minister and get rid of changing the clocks."
12.42pm:
Rosencrantz confirms that another series of
Britain's Next Top Model
is on the cards with Elle Macpherson. "We're going to take her out on the high street and find models that way, because she really wants to do that."
12.43pm:
Four Weddings
was spunoff for a pilot called
Four Parties
. That has now gone to series under the title
Party Wars
.
12.44pm:
Liz Hurley series: "They've started filming already. They have complete access to her life, her farm, her son, her marriage... the stuff people want to know about." Meanwhile, she describes Elle as "absolutely the right host for
BNTM
".
12.45pm:
The Liz Hurley series is only a two-parter but they are considering a full series for next year.
12.46pm:
Talent on Bravo? "Alex Reid.. had nothing to do with his status. [We] thought he had this compelling personality. There's an authenticity behind what he's doing and why he's doing it." She goes on to describe a new Bravo series about a Shaolin monk.
12.48pm:
Living's paranormal programming. "
Most Haunted
has given us three incredible years with these live strips. This year it sort of felt it had reached the end of its reign - not that we won't revisit it." There's a new series of Sally Morgan's show, plus plans in the work for a "team-based investigation" paranormal series around Halloween.
12.49pm:
Does she believe Derek Acorah can talk to the dead? "I believe that Derek believes he does. I seem to remember Derek swallowed Rameses the Great during one memorable episode in Egypt."
12.50pm:
Clipreel of upcoming programmes:
Chase, America's Next Top Model, Gayle Tuesday: The Comeback, Psychic Sally: On The Road, Harald Gloockler, Nikita
... Katie Price.
12.53pm:
On the poaching of Katie Price: "I don't think she's associated with any particular channel, she is her own brand. She has phenomenal longevity. I think she's amazing, a really good brain... she's absolutely perfect for Living and she absolutely loves the channel. She loves Sally [Morgan] and a lot of the shows on Living."
12.54pm:
She adds: "One of the ideas we're working on is a factual reality programme around her horsemanship. She's a fantastic rider." K-Price is working with ITV2 still, so they can't start filming with her until the end of the year. Confirmation that her obs doc format is coming to the channel.
12.55pm:
First original comedy,
Gayle Tuesday
, was "a bit of an accident actually - [the script] just came in". It's just a one-off. As for
Bedlam
, "[we] were really keen to move Living to the next level. We've been working on finding the right piece for about two years now."
12.57pm:
Rosencrantz advises producers not to pitch scripted dramas at them yet, until they see how
Bedlam
does. "The most important thing is to concentrate on ideas that have a twist, are episodic and formatted."
12.58pm:
Upcoming on Bravo:
Alex Reid Fights Back, World's Strongest Man 2010, Sun, Sea and A&E, Chuck, Hawaii Five-0
.
1.00pm:
Programming budget for Bravo? "The commissions on Bravo are funded to the extent that they need to be... there are programmes we get for £60,000 and some we commission for £120k, £130k, £140k."
1.01pm:
With Sky on board, "it can only be good news. They are investing heavily in content. It's highly unlikely they won't invest in the channels that are hugely important to pay TV."
1.02pm:
Show from another channel she'd most like?
Beauty and the Geek
, BBC Three's
Don't Tell The Bride
.. also likes
Mad Men
but doesn't think it would be an appropriate fit.
1.03pm:
Audience questions. More about plans for Jordan? Will she do presenting shows? "It is a deal with her and her production company, so it's the obs doc.. she will bring her life with her, then she will do another series that is more formatted. Outside of that, we haven't had a chance to talk... there's the horse idea and another couple of ideas that we're thinking about."
1.04pm:
How does she feel about
The X Factor
and the autotune row? "I don't really know what's gone on. I think in every edited show, it goes through a sound dub.. I don't think there's any show that hasn't in the history of time. I was absolutely never aware of that happening before. I also know that if you can't sing, you can't sing.. no amount of dubbing will cure that."
1.07pm:
Online commissioning. "Every commission is a 360 one. Every commission has an enormous presence on our website with specific URLs we're building."
1.09pm:
Future of Living spinoff channels? "Living is an incredibly valuable demographic for pay, an attraction for upmarket, ABC1, 16-34 women... it's not as superserved in pay as men are. It's very clear why Living has value to them. We've clarified what Living 2, now known as LivingIT, is.. there's no scripted at all. Living Loves is totally scripted, it's - I hate to use the word catchup channel, because it's more than that - a chance to see
Grey's
again from the beginning, and so on."
1.13pm:
Rosencrantz says
Nikita
fits in with the Living brand. "She's a woman's woman - she loves women."
1.15pm:
That's a wrap on this session. Join me at 1.45pm with Stuart Murphy of Sky1!