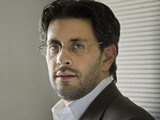 2.00pm:
Welcome to our next controller session, subject:
Danny Cohen
, controller of BBC Three. Moderator is Richard Bacon.
2.02pm:
Hello to Radio 1 personality Matt Edmondson, who's sitting in front of me expertly devouring a Kit Kat. See Matt? People need to know this stuff.
2.03pm:
Clipreel of BBC Three's highlights from the last year. My personal favourite?
Mongrels
. Nothing funnier than animals swearing.
2.07pm:
Show he's most proud of?
Weddings, War and Me
, about Afghanistani weddings. Also loves
Mongrels
and Lee Nelson's show.
2.08pm:
BBC Three is up 15% YoY and about 50% up since the 2008 relaunch. "We've got a more consistent drama story now. Entertainment's been on a really good journey for us - and finally, that movement of our factual into a serious place has been important."
2.09pm:
Richard Bacon asks why
Two Pints
has been recommissioned. Again. "It's got a very loyal and young fanbase who love it. It's a long-running show that we're proud of."
2.10pm:
"I think comedy will always be uneven. It's always the hardest genre to get right. it will always split people more than any other."
2.11pm:
What hasn't worked? "We struggled most in pre-watershed, partly because we're up against very fierce competition. When I started, we probably did two or three digital things at that moment that were too big. We were over ambitious to get a decent size audience online."
2.12pm:
Isn't pre-watershed just repeats of
Doctor Who
?
2.13pm:
On MacTaggart: "It was well-considered, detailed and thoughtful. I think he spoke very well about the challenges the industry faces."
2.15pm:
"It's great that Sky are investing in original content, but I think the point Mark was making is that Sky's turnover is in the billions and they're only spending £100m in original content. Relative to their scale, it's not as much as it could be."
2.16pm:
Says BBC Three had a 12% budget cut about two years ago. "We've had that cut and we kind of managed it quite effectively. There's no more serious cuts at the moment."
2.17pm:
How important is promo on the terrestrials? "Very. They are targeted at certain parts of the schedule when young people watch. But as important is the continuity."
2.18pm:
Defining shows of BBC Three? "I love
Being Human
and
The Russell Howard Show
has been really successful for us."
2.20pm:
Does he mind shows transferring to Two or One? "Not really. It's part of the point of BBC Three, to nurture things and then let them go. Of course it frees up money to try new things."
2.21pm:
Voxpops. "Funny", "adventurous". Fave shows?
Family Guy
, "
Human Beings
". Hated shows?
Young, Dumb and Living Off Mum
, "all that gossip stuff".
2.24pm:
"I'm really proud of what we've done with
Family Guy
. It wasn't a hit in the UK three years ago, but we really believed in it and put it on every night. I love it, it's brilliant, and we're lucky to have it."
2.25pm:
Wants 24 hour BBC Three? "Yes. It's not because it was set up like that and it's taking rather a long time to change it. We're still chatting about it with the Trust over a number of life cycles."
2.26pm:
"From 10pm onwards, we get some of our biggest audiences. The young share rockets. We can really do well then. 7pm is the hardest bit. It's a completely slow start."
2.27pm:
Most successful night? "It varies. Probably Sundays, Tuesdays and Thursdays. We try to have something new to offer every night."
2.28pm:
What would a 24h BBC Three look like? "I think we'd probably do a bit more for teenagers in the afternoon, probably between 4 and 7."
2.29pm:
Rumours that Cohen will switch to BBC One if Jay Hunt goes to C4. "It's been mentioned to me. It's not true, no. I'm in control of BBC Three, I enjoy it a great deal. There's nothing more to say because everything is rumour."
2.30pm:
Would he like to run BBC One? "I'm very happy doing what I'm doing and I don't want to speculate."
2.31pm:
What does he want in the next year? Says they have lots to commission. Drama "a little bit more of a settled state". Announces a new drama called
Touch
from Jack Thorn, a supernatural zombie drama about a geeky teenager who discovers he can see zombies - and only he can save the world.
2.32pm:
"We do need more stuff, but we know what we're doing in 2011 for drama." Says they don't get as many scripts as he'd like. Says he has 2-4 comedies still to commission. Confirms
Mongrels
recommission.
2.33pm:
Russell Howard coming back. "We do need another studio show for next year." Says they also have "a lot of room" in factual and factual entertainment for 2011.
2.35pm:
Matt Edmondson is biting his nails. I can't confirm if he's discarding of the severed nails onto the floor. Oooh, clips of new BBC Three programmes.
2.38pm:
Lots of lesbian sex in
Lip Service
.
2.40pm:
New Simon Bird show
The King Is Dead
. "The idea is, each week we kill of someone in a senior role in life - be it the President - then we interview celebrities for that show."
2.41pm:
Do faces of BBC Three exist? Russell Howard, R-Tovey, Kirsten O'Brien...
2.42pm:
Competition? "The ones we look at most closely are E4 and ITV2, because like us they are focused on young viewers."
2.43pm:
Audience questions. Acquisitions vs commissions? "We have a very high origination remit as set by Ofcom." It's set at 70% but last year they managed 74%. Average cost of acquisition? He's unsure.
2.44pm:
Budgets vary a bit. Pay £100k-160k for factual. Drama 450k hour, comedy 120k-240k, entertainment ditto.
2.45pm:
"Ridiculous" titles of programmes. "It's often newspaper columnists who don't watch the show. We have to talk like our audience and appeal to them directly."
2.46pm:
Any other channels he admires? "There's things on E4 I love. I think
Glee
is an amazing programme. I think Sky1's decision to buy the HBO content is good."
2.47pm:
Says they weren't in a bidding war for
Family Guy
.
2.48pm:
Will pilot seasons continue? "Yes. I think we've got a bit better at organising them into strands. We'll always keep doing that." On
Touch
: "Fantastic pilot, but there was still more to do. We're not going to put that pilot out yet but it is going to go to series."
2.50pm:
How did he make the decision on which pilot to go for? Why not
Pulse
? Are they a waste of money? "You don't look too closely at audiences with pilots, to be honest. We look hard at the AI and we think about how good we thought it was, what the future life of it might be.
Pulse
got an okay AI."
2.52pm:
"I think pilots are very useful.
Being Human
had a pilot. You can learn a lot from them."
2.56pm:
Jonathan Shalit makes a comment about the ratings under-representing the audience. "The key point is that as an industry, we need to not just look at overnights. There's always a pressure with them, because the media look at them. With BBC Three, 108% more people watch programme after the initial broadcast, so it more than doubles."
2.58pm:
That's a wrap on this session. Join me again at 3.30pm for live coverage of the controller session with the new head of
Five
Channel Five, Jeff Ford.
2.59pm:
Matt Edmondson does NOT bite his nails, he'd like me to add. He merely files them with his ample gnashers.