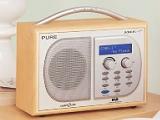 Global Radio founder Ashley Tabor has urged the BBC to "put their money where their mouth is" by investing in the UK's digital radio infrastructure to boost the switchover drive.
Tabor said that his company, which owns the Heart, Capital, Classic FM and LBC stations, would hold back investment in new digital services until the digital audio broadcasting (DAB) platform has a comparable reach to analogue FM.
The BBC is
currently investing
in more than 60 extra DAB transmitters to fulfil its Royal Charter commitment to reach around 90% of the UK population.
However, Tabor believes that the corporation should do more to rollout DAB and strengthen the signal in areas already covered by the service.
"Global has stepped up and said we are absolutely doing it, we have great new ideas of things we could do on digital but we are not going to do it until our listeners can hear it in decent quality and that is something that we have been clear from the start the Beeb will need to do," he told
The Guardian
.
"They have always said yes [and] now is the time to do it. A lot of pressure is building on them to now actually put their money where their mouth is. It's not actually a lot of money because it's amortised over 10-12 years. I think it will happen."
Yesterday, a report by the Consumer Expert Group
warned
that the current target for the digital radio switchover to start by 2015 was "far too early".
The group indicated that the switchover should only be activated when analogue radio drops below 30% of all listening, rather than the current target of 50%.
Tabor said that a commitment to DAB was about expanding the network, but also improving the quality of coverage for users.
"The next step is the build-out of all the multiplexes," he said.
"By build-out I don't just mean extending coverage further but deepening the quality of coverage in the areas that are covered so that you don't fly around a corner in London and lose the signal momentarily. This is now a BBC matter 100% in terms of funding it."