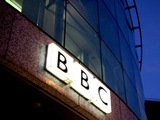 The BBC's television, radio and online news services have been disrupted today after thousands of journalists went on strike.
At midnight, members of the National Union Of Journalists started a 48-hour walkout after rejecting the BBC's final offer on changes to its final salary pension scheme.
Star presenters, including Fiona Bruce, Kirsty Wark and Nicky Campbell, were expected to join the action, which has already forced Radio 4's flagship
Today
programme off the air. BBC Breakfast has also been seriously disrupted.
Picket lines have been mounted at BBC sites across the UK, including Bush House, Broadcasting House and Television Centre in London.
The NUJ, which represents about 4,100 BBC journalists, has scheduled another 48-hour strike to start on November 15, with the threat of further industrial action over Christmas.
The union said that it has already received widespread support from MPs and other unions, including Bectu, which decided against joining the action.
The NUJ claims that 95% of the World Service newsroom is currently out on strike, while many Bectu members have decided against coming into work.
Jeremy Dear, the NUJ general secretary, said that he expects the strike to have a "significant impact" on the BBC's output. He added that the union is ready to re-enter talks with the BBC, but said there was "no appetite" for negotiation from the corporation.
"NUJ members across the BBC have consistently dubbed the proposals a pensions robbery," he said.
"That hasn't changed. The BBC have now left members with no choice but to take action to defend their pensions."
Yesterday, BBC director general Mark Thompson made a
last-ditch appeal
to employees to ensure that news services were not too disrupted during the action.
However, pre-recorded programmes filled the three-hour slot usually occupied by the
Today
programme, while Radio Five Live had to replace live shows with pre-recorded content.
BBC News also played recorded shows during its through-the-night news bulletins. This evening, BBC Two's
Newsnight
is expected to fall victim to the strike.
NUJ members voted to go on strike in protest at changes to the BBC's final salary pension scheme, proposed by the BBC to tackle its estimated deficit of between £1.5bn and £2bn.