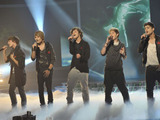 An improvement in the TV advertising market in the third quarter of 2010 helped ITV report strong revenue growth, but next year's outlook remains "uncertain", it has been announced.
Over the nine months to September 30, ITV's broadcasting and online revenues were up 16% year-on-year to £1.25 billion. Group revenues increased 11% year-on-year to £1.46 billion, driven by a recovery in the television advertising market.
ITV said that its advertising revenues were up 16% in the three months to September 30, and are predicted to be up by 10% in the fourth quarter.
However, revenues at ITV's production arm ITV Studios were down 10% year-on-year to £205m over the nine months to September 30. ITV Studios' internal revenue was £181m, up from £176m at the same time last year, but the broadcaster noted the pressing need for "creative renewal".
As of September 30, ITV managed to reduce its net debt to £366m from £437m in the previous quarter. That figure also does not include the £47m received in October from the
sale
of its 50% shareholding in cinema advertising business Screenvision.
Yesterday, ITV
launched
high definition versions of digital channels ITV3 and ITV4 exclusively on Sky, joining the already available ITV2 HD as part of the broadcaster's new pay-TV strategy.
"The television advertising market has continued to recover strongly. However this does not disguise the significant challenges ITV faces and we remain focused on delivering the five-year Transformation Plan," said Adam Crozier, ITV chief executive.
"We are forging ahead with implementing our first phase priorities; we have launched HD versions of ITV2, ITV3 and ITV4 on the Sky platform, we have agreed a
new three-year deal
for both
The X Factor
and
Britain's Got Talent
and we have completed the sale of Screenvision. The economic outlook for 2011 is uncertain and we continue to plan on a cautious basis."
ITV's audience share of commercial impacts (SOCI) - ratings that exclude the BBC channels - fell 1% year-on-year to 39.3% in the 12 months to November 6, despite a string of hit shows, such as
The X Factor
.
Flagship channel ITV1's SOCI dropped 5% year-on-year to 26.8%. In the year to November 11, ITV1's average audience share was also down 5% year-on-year to 15.7%.
ITV's website attracted nine million average monthly unique users over the nine months to September 30, up 13% year-on-year. However, the site gained 15.6m average monthly video views, down 6% on the same time in 2009.