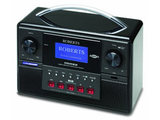 UK commercial radio groups have said that they will refuse to promote digital radio services this Christmas until the BBC increases its investment in the underlying infrastructure.
The groups, including Capital Radio owner Global Radio and Smooth owner GMG Radio, have said that they will not air adverts from a major digital radio campaign until more listeners can receive services via the digital audio broadcasting (DAB) platform.
The government aims to start the UK's switch from analogue to digital radio by 2015, but industry estimates claim that between £100m and £200m must be invested in the DAB transmitter network before it matches the coverage currently provided by analogue FM.
Commercial radio executives believe that the BBC should pick up the bill for providing the infrastructure, including Global Radio founder Ashley Tabor
recently saying
that the corporation must "put their money where their mouth is".
However, the recent
BBC licence fee settlement
did not include any specific commitment from the corporation to fund the full rollout of DAB across national and local multiplexes.
Switchover body Digital Radio UK will launch a major marketing blitz this Christmas to arrest the slowing growth of DAB usage. But the campaign will not be aired on the stations owned by Global Radio and GMG Radio, while Kiss and Magic owner Bauer Media and UKRD will also shun the adverts.
In a statement, a spokesman for commercial radio trade body RadioCentre said: "Commercial radio operators are currently in discussions with government about the funding of local DAB coverage. Until those discussions are resolved, we understand that some stations felt it would be inappropriate to run the digital radio Christmas campaign."
Digital Radio UK said that the ads were still being run on many commercial stations, while others had initially turned them down due to limited available airtime.
"The digital radio Christmas campaign launched this Monday on commercial radio stations including Absolute, UTV, Orion and KMFM and individual stations such as Planet Rock and Jazz FM", said a Digital Radio UK spokeswoman.
"Others are providing airtime in December because their inventories are currently full."
The BBC's services will carry the Digital Radio UK ad campaign this Christmas featuring Hugh Dennis and Sue Perkins, under the strapline 'Digital radio, more to love".