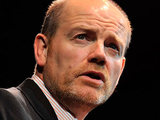 BBC director general
Mark Thompson
has targeted savings of around £500 million to ensure the corporation can operate effectively under its new licence fee settlement.
In an interview with
The Guardian
, Thompson said that the BBC would make efficiency savings of around £330 million a year from a reduction of its overheads, including more cost-effective ways of collecting the £145.50 licence fee and tackling evaders.
The BBC also intends to cut around 25% from its £200m annual online expenditure, while significant savings would come from integrating the World Service into BBC News when the corporation takes over funding for the global news operation from 2014.
Discussing the latter strategy, Thompson said: "However well-resourced the BBC is, we cannot afford to run two global news operations."
In early October, the BBC
accepted
a freeze of the licence fee for six years to March 2017, and agreed to take on the costs of running World Service, BBC Monitoring and Welsh-language channel S4C.
The new arrangements represent a 16% cut in real-terms to the BBC's budget, requiring Thompson to make a number of savings across the corporation.
The director general said that he will announce details of planned efficiencies to the BBC's TV operation in early 2011, with cuts expected in sport and US programme acquisitions.
Thompson did not give any indication whether the cuts would result in job losses in the BBC's 23,000-strong work force, but he did promise that no TV channels or radio stations would be forced off the air.
Despite accepting that the BBC was facing a "tough few years", Thompson stated his belief that the corporation could afford its new financial obligations.
He also said that the BBC would focus on doing "fewer things better" by supporting more "impactful" programmes, such as the upcoming BBC Two series on British novels fronted by author Sebastian Faulks.