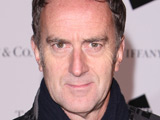 Former
Have I Got News For You
host
Angus Deayton
will reportedly return to BBC Radio 4 next year for a new radio comedy series.
Deayton will front six-part series,
It's Your Round
, in which guests such as Miles Jupp, Arthur Smith and Rebecca Front invent their own rounds for the show, reports
The Guardian
.
The programme, which will premiere on February 17 at 11pm, marks Deayton's first comedy series on Radio 4 since the award-winning
Radio Active
in the 1980s.
After
Radio Active
transferred to BBC Two as
KYTV
, Deayton took on various television roles, including an acting part in comedy
One Foot In the Grave
.
He was also the long-running host of current affairs panel show
Have I Got News For You
, but left the programme in 2002 after tabloid allegations about his private life.
Deayton returned to the BBC in 2003 to guest star as a spin-doctor in an episode of political comedy
Absolute Power
, followed by a role in BBC sitcom
Nighty Night
from 2004.
Next year, Radio 4 will offer more comedy programming to its listeners, including a new podcast titled
Comedy of the Week: Mondays Don't Have to be Miserable
.
The station will also air an improvisation show called
Showstopper! The Improvised Musical
, starring Pippa Evans, Ruth Bratt, Sean McCann and others.