Media News
Jeremy Hunt: 'BBC has left-wing bias'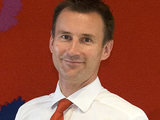 Culture secretary Jeremy Hunt has controversially accused the BBC of having a leftwing bias, arguing that more people at the corporation would vote Labour or Liberal Democrat than Conservative.
In an interview with the
Observer
, Hunt said that the BBC had been out of touch with public opinion in the past and demonstrated a clear bias to the left on issues such as Europe and immigration.
He added: "I think if you were to discover how people vote at the BBC there are probably more who vote Labour or for the Liberal Democrats than the Conservatives."
However, Hunt - whose surname was
accidentally changed
to an expletive on Radio 4 last week - praised the BBC for making excellent programmes and providing comprehensive news coverage.
He also stressed that the BBC's journalists always put their commitment to even-handed reporting above their "political affiliations".
Hunt's claims about the BBC's political bias follow
comments
from BBC director general Mark Thompson earlier in the year about the corporation having a "massive bias to the left" when he joined in late 1970s.
BBC veterans
John Simpson
and
Roger Bolton
immediately criticised Thompson, arguing that the corporation has always been "straight as a die" with its reporting.
Elsewhere in the interview, Hunt vented his frustrations at the BBC's decision to air a
Panorama
investigation into corruption at FIFA so close to the 2018 World Cup vote. Echoing the
belief
of others, he said that the programme damaged England's bid, describing it as "a nightmare".