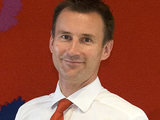 Cabinet secretary Sir Gus O'Donnell has insisted that the culture secretary Jeremy Hunt is the right man to fairly arbitrate on News Corporation's bid to take full control of
Sky
.
Yesterday, the Labour party
questioned
whether Hunt was a "fit and proper person" to make the final decision on the Sky takeover.
He was handed the powers after business secretary Vince Cable was stripped of the decision for
telling
undercover reporters that he had "declared war" on News Corp chief Rupert Murdoch.
O'Donnell, Britain's most senior civil servant, said in a letter to the shadow business secretary John Denham that he had taken "advice from lawyers" over Hunt's suitability and was convinced he was up to the task.
Labour was particularly concerned about a June interview Hunt gave to the
Financial Times
, in which he said: "It does seem to me that News Corp do control Sky already, so it isn't clear to me that in terms of media plurality there is a substantive change, but I don't want to second guess what regulators might decide."
After reviewing the interview comments, O'Donnell said that he was "satisfied that those statements do not amount to a pre-judgement of the case in question".
In response, Denham said that he did not agree with the cabinet secretary's verdict and claimed that public confidence in the takeover ruling process was still in doubt.
"In respect of the cabinet secretary's remarks about Jeremy Hunt, I have to say there is an issue here about public confidence. It is not just a question of ensuring decisions are taken properly but also making sure that they are seen to be taken properly," he said.
"The cabinet secretary's letter makes clear that there was so much doubt about Jeremy Hunt's suitability for this role that they were forced to consult top lawyers yesterday. It is very hard to see how any decision Jeremy Hunt makes will enjoy complete confidence.
"What Labour has always asked for in this case is that both sides are given a fair hearing - and are seen to be given a fair hearing."
Media regulator Ofcom will deliver its investigation report into the takeover by December 31 and Hunt is expected to make a decision after parliament returns on January 10.