Media News
MP: 'Hunt is knee deep in News Corp'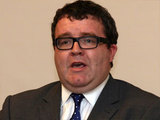 Tom Watson, the Labour MP for West Bromwich East, has accused culture secretary Jeremy Hunt of being "knee deep in News Corp".
In a letter sent to cabinet secretary Sir Gus O'Donnell, Watson said that Hunt should not be
allowed to rule
on News Corp's bid to take full control of Sky.
He was specifically referring to revelations that the culture secretary held un-minuted meetings with executives from Rupert Murdoch's media giant shortly after the firm
launched
its takeover bid in June.
James Murdoch, the chief executive of News Corp in Asia and Europe, was also understood to be present at some of the meetings, reports
The Guardian
.
Hunt was handed the power to arbitrate over the takeover after business secretary Vince Cable was stripped of the decision for
saying
that he had "declared war" on Murdoch's media empire.
In his letter, Watson called on O'Donnell to disclose whether he was aware of Hunt's meetings with News Corp, before
giving his backing
for the culture secretary to make the final decision on the takeover. The MP also claimed that Hunt is "knee deep in News Corp".
"He [Hunt] had had several un-minuted, private, secret, 'informal' meetings with News Corp, the existence of which DCMS ministers have then denied in written answers to parliament," claimed Watson.
"As no civil servants were present at the meeting can you be entirely satisfied that this meeting will not prejudice Mr Hunt's judgment when acting in this quasi-judicial role?"
Media regulator Ofcom will deliver its investigation report into the takeover by December 31 and Hunt is expected to make his decision after parliament returns on January 10.