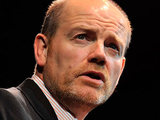 BBC director general Mark Thompson has said that the corporation will seek around £400 million of savings as it adjusts to the new licence fee settlement.
The BBC aims to make cost savings of around 20% before the end of the license fee freeze in April 2017 as it copes with its new financial responsibilities, including World Service and Welsh-language channel S4C.
Thompson told BBC staff today that he is imposing the tough savings target to meet the BBC's new commitments, but also to free up funds for investments in new content or technologies.
The corporation aims to reduce its overheads from 12% to 9% or less in order to meet its aim of spending 90% of the licence fee on making content and delivering it to the public.
"The BBC is being realistic, taking prompt action to make sure it meets future funding limits, while continuing to aim to devote 90% of spending on content and getting it to the public," Thompson said in a statement.
"Rather than imposing these efficiency savings and reductions in a top-down manner, we are asking people who work at the front line to say how these can best be achieved.
"The tough, but realistic, settlement we achieved gives us certainty of funding for six years. However, the BBC is not immune to the economic climate and it will require tough decisions to achieve these savings."
Under the new licence fee deal, hastily agreed with the government last October, the BBC licence fee will be frozen at £145.50 until April 2017, representing a 16% cut to the BBC's income in real-terms.
Thompson warned that efficiency and operational savings alone will not be enough to meet the cost of the BBC's new financial obligations, which include World Service, BBC Monitoring and S4C.
The BBC Trust chairman Sir Michael Lyons today
urged
the BBC to review its digital channels after the completion of the digital switchover in 2012, potentially putting in doubt the futures of BBC Three and BBC Four.
Thompson said that the savings drive would have an impact on some programmes and services, but there are no plans for the closure of any specific channels or networks.
A Trust spokeswoman also stressed that the BBC's governing body "never suggested that the Executive should close any individual service".
She added: "This is the start of the process: we now await the DG's suggestions for how to implement the new licence fee settlement and the principles of the new strategy set out by the Trust at the end of last year."