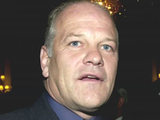 Andy Gray
has reportedly complained to friends about feeling "stitched up" after being sacked by Sky Sports following accusations of sexism.
The presenter was
fired
by the broadcaster after suggesting that assistant referee Sian Massey would not know the offside rule due to her sex and for previous lewd comments to colleague Charlotte Jackson.
According to
The Mirror
, Gray, 55, believes that his superiors have used the storm over the comments to allow them to promote younger staff.
"He feels like he has been stitched up and people working against him at Sky have set all this up to get him the boot," a source claimed.
"He loved doing that job and didn't get much of a chance to get his point of view across. But it feels like a changing of the guard at Sky and this will give bosses a chance to promote Ben Shephard and Jamie Redknapp quicker."
Lawyers Schillings have confirmed that they have been instructed by Gray regarding his dismissal.
Gray's fiancée Rachel Lewis added yesterday: "He's wanted to apologise for the last few days, desperately. He was told not to by Sky."