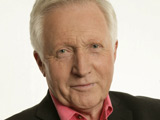 Former BBC newsreader Anna Ford has reignited the debate about ageism at the BBC, after criticising the contracts awarded to "charming dinosaurs" like
David Dimbleby
.
Ford's comments come as Dimbleby, the 72-year-old host of
Question Time
, is understood to be considering a new five-year deal, worth £3.5 million, to stay at the BBC.
Speaking to the
Daily Telegraph
, Ford, 67, said: "I wonder how these charming dinosaurs such as Mr Dimbleby and [BBC world affairs editor] John Simpson continue to procure contracts with the BBC, when, however hard I look, I fail to see any woman of the same age, the same intelligence and the same rather baggy looks."
Ford also expressed concern that any woman who speaks out, or draws attention to issues of ageism is "demonised as aggressive or strident".
In 2006, Ford left her post as a presenter on the BBC's
One O'Clock
and
Six O'Clock
news bulletins, after discussing fears that she would be dropped due to her age.
"I might have been shovelled off into News 24 to the sort of graveyard shift, and I wouldn't have wanted to do that because it wouldn't have interested me," she was quoted as saying at the time.
Last month, the BBC was
found guilty
of ageism after Miriam O'Reilly won an age discrimination case against the decision to drop her from BBC One show
Countryfile
when it moved to primetime.
Dimbleby reportedly
threatened
to resign last week over the BBC's plans to transfer the
Question Time
production base from London to Glasgow. However, he has since played down the possibility of him leaving the BBC for satellite broadcaster
Sky
, claiming that the chances of that happening are "not great".