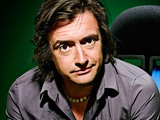 Top Gear
presenter
Richard Hammond
is to follow David Mitchell and Harry Hill in hosting a series exclusively online, taking a "witty and irreverent" look at the world of technology.
Launching today on YouTube and iTunes, the 20-part
Richard Hammond's Tech Head
series will take items ranging from toasters to tanks apart and then try to put them back together again.
Co-produced with ChannelFlip, each episode will see Hammond posing questions such as, "How do farmers use the most lethal technology known to mankind?" and, "What did weirdos do before the internet?"
The opening episode introduces viewers to Hammond's "hi-tech virtual world", as well as showcasing one of the most advanced coffee makers ever conceived.
Hammond follows comedians
David Mitchell
and
Harry Hill
, who have both recently presented their own web-exclusive programmes.
Discussing his new series, Hammond said: "Technology is bloomin' everywhere, and that scares me slightly. In this new series I'll be giving technology a good prod to find out exactly what makes it tick, or bleep, or whatever it is that technology does.
"And what better place to do it than on the interweb, where I'll be hoping to follow in the footsteps of Paris Hilton, Abi Titmuss and Pamela Anderson, who my producer tells me have all made a big name for themselves online."
A new episode of
Richard Hammond's Tech Head
will become available every Monday on Youtube.com/HammondTechHead and for free from iTunes.