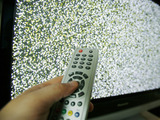 US DVR giant
TiVo
has angered UK customers by announcing plans to discontinue its TiVo Series1 subscription service this summer, after ten years in operation.
In a posting on the TiVo blog, TiVo general manager of international, Joshua Danovitz, confirmed that the Series1 would be discontinued on June 1.
The revolutionary digital video recorder launched in 2000, but was largely pushed out of the market two years later when Sky introduced its Sky+ integrated set top box PVR.
All TiVo boxes not on monthly or "lifetime" subscriptions could no longer be re-activated from December last year, and it has now emerged that all Series1 subscription services will end from June.
Danovitz said that TiVo is currently contacting the "small, yet loyal" group of customers still using the Series1, extending the offer of a discounted upgrade.
"We have reached out to those customers via a direct message to their TiVo box to let them know that TiVo will be discontinuing the service. We will continue this communication over the next few months so there are no surprises once we reach that date," he said.
"Our goal is to provide customers enough time to upgrade. All Series1 UK customers will receive free TiVo service over the next three months. If you are a Series1 UK TiVo customer and have questions, email bskyb-support@tivo.com."
Danovitz also said that users in selected cabled areas will be able to access Virgin Media's
new converged TV platform powered by TiVo
, offering broadcast TV, video on-demand and web services.
However, the service is largely viewed as a premium product by Virgin Media and so carries a significant set up cost, including £199 for the next-generation set top box.
Writing on the TiVo community forum, TiVo customer Terry Jones described the Series1 closure as a "shocking decision" and urged fellow users to contact the BBC's
Watchdog
programme.
"When is a lifetime not a lifetime? When you are a TiVo owner. I do live in a Virgin Media area and am currently subscribed to their service. However nobody knows at their helpdesk what this so-called special offer will be," he wrote.
"I cannot see Virgin Media giving me a replacement box for free; there will probably be some kind of six months rental for free deal. However, we all purchased our boxes and paid subscription fees, not a small capital outlay. If we bought a TV and TV licence only to be told that BBC were no longer broadcasting, questions would be asked in parliament about customers being ripped off."
Fellow forum members Steve FD added: "Very sad to see the end of a service that has served me better than just about any other appliance in my house - it has never failed and 'just works'.
"But I guess we all knew the end would come - and here it is. Have to say though - I think we should be getting an offer a bit more than £50 off a new box…"