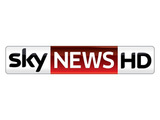 Sky News was last night named 'News Channel Of The Year' for the second year running at the 2011 Royal Television Society (RTS) journalism awards.
Sky's rolling news network staved off strong competition from Al-Jazeera English and the BBC News Channel to scoop the prestigious award, marking the eighth time it has won the accolade in the last ten years.
The RTS judges said that 2010 was a "vintage year for Sky News, which exhibited outstanding range and depth". They also praised the channel for its "bold and brave" approach to showing foreign coverage and breaking news.
Sky News specialist correspondent Alex Crawford was named RTS 'Television Journalist of the Year' for the third time, and the broadcaster's coverage of the student protests in London took the 'Home News Coverage' award.
Speaking at last night's ceremony, head of Sky News John Ryley paid tribute to the "brilliant men and women of Sky who over the past 22 years have made the channel the success it is today".
He added: "2010 has been another exceptional year for the Sky News team - from the success of our historic Leaders' Debate campaign, to the launch of HD, to our outstanding foreign coverage - we continue to push bold, exciting and innovative storytelling."
Elsewhere, the BBC picked up four awards, including a lifetime achievement accolade for David Dimbleby, the face of the corporation's political coverage.
The Channel 4 News anchor Jon Snow was named 'Presenter Of The Year' and the broadcaster's political editor Gary Gibbon won 'Specialist Journalist Of The Year'.
The ITN-produced
ITV News at Ten
won the coveted 'News Programme Of The Year' prize, while ITV was also recognised for its international coverage of the Haiti earthquake. ITV Border's coverage of the Cumbria shootings scooped the best nations and regions news programme prize.
The 'Judges' Award' was shared between Sky News, the BBC and ITV for negotiating the landmark televised Leaders' Debates for last May's general election. CNN International took home the 'Innovative News Award' for its World Cup Twitter Buzz visualisation.