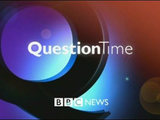 The BBC has announced a new editorial team for
Question Time
in preparation for the show's move to Glasgow this summer.
Nicolai Gentchev, from Radio 4's
Today
programme, will take over as editor of the programme and Radio 5 Live's former head of news Hayley Valentine will come in as executive editor.
Gentchev, a graduate of Glasgow University, joined the BBC in 2006 and became a senior producer on
Today
in 2008. Last year, he was seconded to the
Good Morning Scotland
programme for its general election coverage.
He is already based at the BBC's Pacific Quay building in Glasgow and so will not need to relocate when he takes up the post at
Question Time
in May.
Valentine led 5 Live's coverage of the last general election, along with the Cumbria shootings and the World Cup in South Africa. Prior to that, she edited a variety of news programme on the network, including Victoria Derbyshire's show.
She started her journalism career in newspapers in Dundee after studying at Edinburgh University, and went on to work at BBC Scotland and Scottish Television.
Discussing the appointments, BBC director of news Helen Boaden said: "
Question Time
has an outstanding new team to lead it. Nicolai and Hayley have a great depth of experience in the political institutions across the UK. They will ensure that one of the BBC's most important programmes goes from strength to strength."
Steve Anderson, executive producer at
Question Time
maker Mentorn Media, added: "I am confident that
Question Time
will be in good hands with Nicolai and Hayley. Nicolai succeeds Ed Havard who has taken the programme to new heights, generating news stories, boosting ratings and overseeing spinoff series on BBC Three."
Question Time
is due to relocate to Glasgow in the late summer as part of the BBC's strategy to "build sustainable production bases" outside of London.
However, the move has
faced criticism
on grounds that it will take the programme away from Westminster and bring huge costs in shuttling staff between Scotland and London.
Presenter David Dimbleby has been particularly outspoken with his criticism, arguing that "it's like trying to report on [the Scottish parliament in] Hollyrood from London. You have to be around the swirl of Westminster life and have access to the highest political levels".