Media News
BBC launches 'This is what we do' campaign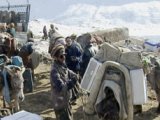 The BBC has launched a major new marketing campaign aiming to highlight real-life examples of some of the corporation's "extraordinary achievements".
The trails, launching today (March 25), will attempt to demonstrate "the passion and commitment of individuals working for the organisation", all tagged with the endline "This is what we do."
The campaign comes on the back of new research indicating that many BBC employees feel ignored and under-appreciated by upper management. It also precedes the government's decision on whether to grant the organisation a higher licence fee.
The four trails include:
Kabul: John Simpson and team are forced to transport equipment by donkey to cover the fall of the Afghan capital
The Office: Trading off the popular BBC Two sitcom, the trail asks viewers: "Who would commission a sitcom from someone who had never written, directed or acted in one before?"
Wall: Featuring a BBC cameraman in action during a conflict between British and Iraqi troops
Snow Leopard: A behind-the-scenes look at filming an amazing scene from BBC One's Planet Earth
"What truly sets the BBC apart is the extraordinary lengths our people go to to get great content for our audience," said Helen Kellie, the BBC's head of brand and planning. "This campaign shows the public some of that magic."