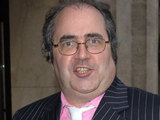 Radio presenter
Danny Baker
is to return to the airwaves later this month following his cancer diagnosis last year.
Baker confirmed that he would resume his weekday afternoon show on BBC London 94.9 from April 18, "unless the medics make some last-gasp cruel objection".
In a message posted yesterday on his Facebook page, Baker said: "I intend to un-retire again. I shall return to BBC London on Monday April 18th at 3pm to give it another go.
"I realise this will reduce [BBC Radio 2 presenter] Steve Wright's overall audience figures by more than 300 but it's a tough game we're in Steve."
Reacting to the news, BBC Radio 5 Live expressed its hope that Baker would resume his shows on the station in late May. That includes his two-hour programme on Saturday mornings, which has been
covered by Absolute Radio's Christian O'Connell
.
Last November, Baker
announced that he would be off-air for an indefinite period
while he underwent chemotherapy treatment following his cancer diagnosis. In January, his representative said that the
treatment was going well and that the presenter was keen to get back to work as soon as possible
.
Baker has been nominated for 'Speech Radio Personality Of The Year' at the 2011 Sony Radio Awards, which take place in London on May 9.
The 53-year-old's broadcasting career has also included various television work, including LWT's
The Six O'Clock Show
and his own chat show on BBC One.