0
Media News
'NOTW' journalist arrested over hacking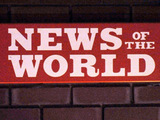 The Metropolitan police investigation into phone hacking at the
News of the World
has resulted in the arrest of another senior journalist.
James Weatherup, who was not previously named in connection with the scandal, was arrested by police early this morning and taken into custody, reports
PA
.
The development follows the arrest last week of chief reporter Neville Thurlbeck and ex-news editor Ian Edmondson on suspicion of having unlawfully intercepted voicemail messages. The two men are on bail until September.
A police spokesman said that Weatherup, 55, was detained by Scotland Yard's Operation Weeting team at 8am today and taken to a police station in London.
"He remains in custody for questioning after being arrested on suspicion of conspiracy to unlawfully intercept communications," he added.
"The Operation Weeting team is conducting the new investigation into phone hacking. It would be inappropriate to discuss any further details regarding this case at this time."
Weatherup acted as news editor at the
News of the World
for about 18 months from 2004 under the then-editor Andy Coulson, who
resigned as David Cameron's director of communications earlier this year
.
The journalist was also previously a close colleague of Edmondson, who was dismissed from the newspaper in January.
This weekend, the
News of the World
printed an official apology over the phone hacking scandal
, after its parent company News International admitted liability in a number of cases.
In a new twist to the controversy, actor
Hugh Grant
secretly recorded a conversation with Paul McMullan
, in which the ex-
News of the World
journalist claimed that Coulson "knew all about" phone hacking by staff when he was editor of the Sunday tabloid.