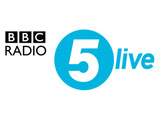 Shelagh Fogarty's last day on the BBC Radio 5 Live breakfast show proved extra memorable yesterday, after Nicky Campbell played an on-air prank and chancellor George Osborne left her a saucy farewell message.
Fogarty, who is
replacing Gabby Logan on the station's lunchtime show
, appeared to be having a relatively straightforward final show until encountering a nightmare guest called Anthony Grierson, supposedly a professor of political philosophy at Syracuse University.
In a discussion about the US democratic system, the grouchy professor asked "is this the BBC or some two-bit organisation?" He also called on Fogarty to pose a "decent question".
He also started talking complete nonsense, saying: "He who wanders lonely as a cloud, ends up evaporating" and "the man who thinks he can never can, the man who knows he can sometimes can, but the man who really can doesn't need to prove anything."
However, the professor turned out to be Campbell, tricking his breakfast co-presenter of six years. Fogarty's surprise was genuine and she chastised Campbell for being "so cruel".
Also in the show, chancellor George Osborne submitted a special and rather affectionate message to mark Fogarty's final day on
5 Live Breakfast
.
The minister said: "I'm sad to be losing you from the 5 Live breakfast show, and I'm sure you will do a great job on the lunchtime programme."
Referring to Fogarty's recent 'erotic' dream about him, Osborne added: "It does give you more hours' sleep every day. More hours for those dreams you've been having. I'm sure you'll have sweet dreams."
From Monday, Campbell's
new breakfast co-presenter will be Rachel Burden
, who has co-hosted 5 Live's
Weekend Breakfast
since 2003.