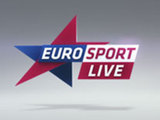 Eurosport
has announced plans to broadcast live 3D coverage of French Open Tennis later this month, following last year's successful debut.
Under a tie-up with Panasonic and Fédération Française de Tennis (FFT), the European sports broadcaster will beam live 3D coverage from Roland Garros 2011, which runs from May 22 to June 5.
The coverage will be made available in Panasonic retail outlets across Europe, just as it was for
Eurosport's debut 3D broadcast at last year's French Open
.
However, the 2011 coverage will also be beamed direct to living rooms in selected territories. Swisscom has signed up to offer the content in Switzerland, while Canal Digital will bring it to Denmark, Sweden, Norway and Finland. However, there are still no plans as yet to bring the coverage to Sky's 3D channel in the UK.
Laurent-Eric Le Lay, the Eurosport chairman and chief executive, said that running a live 3D broadcast from Roland Garros was "the best way to demonstrate how the combination of compelling content and new technology greatly enhances sports viewing".
Le Lay added that the partnership with Panasonic and FFT will help "make 3D sports viewing across Europe a mainstream reality."
Laurent Abadie, chairman and chief executive of Panasonic Europe, expressed his view that 2011 will be the year that the "revolutionary" 3D technology goes mass market.
"To make sure there is sufficient content available to meet consumers' demands for high quality 3D programming, Panasonic is working in close partnership with Eurosport and broadcasters across the world," he said.
"The French Tennis Open is a perfect example of how these partnerships can work to deliver exceptional content. We are the official suppliers for the tournament and our end-to-end 3D product suite will be showcased, from our 3D broadcast products to our state-of-the-art 3D Viera screens, which will be on display across the site so visitors to the tournament can try out the 3D tennis experience."
Michel Grach, media and sponsorship director at FFT, added: "From the extremely positive feedback about the 3D broadcast into retail stores last year, it is clear that 3D technology truly recreates the immersive experience of being courtside, on the television set."
In March, Eurosport was among a number of broadcasters and content providers to
bring 3D media to Nintendo's new 3DS handheld device
.