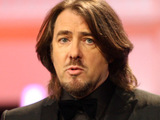 Jonathan Ross
is reportedly planning a multi-million pound radio comeback.
The chatshow host, who
left the BBC last year
, is said to be considering deals from major commercial stations like Heart and Absolute.
A source told the
News of the World
: "Jonathan made a very big deal about leaving the BBC as positively as possible.
"But he thinks commercial radio will be the best place for him. It gives him freedom and he'll be able to make the sort of money Radio 2 would never have been able to pay him in this climate."
The new show could make Ross the highest paid host in British radio, topping Johnny Vaughan's supposed million-pound salary.
A friend added: "This isn't about the money for Jonathan, he's missed the airwaves. Radio's something he loves to do. But a lot of the joy in it was taken away by the BBC in the end."
Ross was
suspended from the BBC in 2008
after making lewd calls to Andrew Sachs on Russell Brand's Radio 2 show.
He is nearing the end of his
"gap year"
and will launch his
new ITV chatshow
in the autumn.