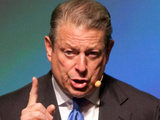 Al Gore
has said that the treatment of Current TV in Italy by Rupert Murdoch's News Corporation shows the potential impact of the company's proposed takeover of Sky.
A dispute erupted last week after Gore claimed that Current TV had been dropped from News Corp's Sky Italia after the network hired left-leaning news anchor Keith Olbermann, who has often criticised Murdoch's media empire.
News Corp hit back by
saying that the decision was purely financial
and accusing Current TV, which launched on Sky Italia in 2008, of demanding more money despite primetime viewing on the channel having fallen by 40%.
Sky Italia said that Current TV had demanded double its carriage fee, but Current TV says that it had not made an offer before being informed of the cancellation last month.
Current TV claims that Sky Italia offered to pay 70% less than the carriage fees it paid under its original deal with Current. The company also denied that its viewing has declined in Italy, claiming that ratings had actually increased by 550% year-on-year in 2010.
The decision to drop Current TV from Sky Italia has led to protests in Italy, including nearly 40,000 people joining a Facebook campaign to save the channel.
Former US vice-president Gore, who flew to Rome last week to lend his support to the campaign, accused News Corp of an "abuse of power" in the case.
He also noted that the situation should raise more concerns over News Corp's bid to acquire the 61% of pay-TV satellite broadcaster Sky that it does not already own. The deal is
widely expected to gain UK government approval
next month.
"The larger question much bigger than Current is whether or not our democracies can thrive in the age of television when the increasing concentration of ownership by large corporate conglomerates with an ideological agenda and a quest for power, leads them to control access to the public square to the civic commons, to the conversation of democracy," he said.
"In this time of rapid political, economic and social transition, the future of healthy democracies depends on independent journalism that is untethered and unafraid. We at Current have dedicated our international media platform to unleash truth tellers, and there is no more critical time for truth telling than in Italy right now."
Joel Hyatt, who founded Current TV with Gore six years ago, added: "If regulators in the United Kingdom or the European Union are wondering what the impact will be of having a satellite system totally owned and controlled by News Corporation, they need only look to Italy.
"Sky Italia - in what can only be described as a flagrant abuse of its dominant market position - just kicked off the only independent news and information network on its platform without warning, and despite repeated assurances that Current's contract be renewed. It is ironic that Sky markets its satellite offering as being the 'Freedom Choice'."