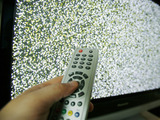 Ofcom has today launched a review of the UK TV advertising market to establish whether the way airtime is traded "prevents, restricts or distorts competition".
The review,
announced by Ofcom chief executive Ed Richards in March
, will investigate how TV airtime is sold by broadcasting sales houses to media buyers and advertisers in the £4 billion annual market.
Should Ofcom find that there are "sufficient competition concerns" it will refer the sector to the Competition Commission for a more vigorous investigation, which could potentially have long-lasting implications for ITV, Channel 4 and other commercial broadcasters
Advertising revenue is essential for broadcasters to finance new content, but Ofcom has identified a number of areas that may be having a detrimental effect on viewers and advertisers.
The regulator believes that there is "poor" transparency in the pricing of airtime, which makes it difficult for advertisers to draw "meaningful and informed" price comparisons between the channels.
Advertising is generally sold in packages, or bundles, but Ofcom is concerned that certain broadcasters may be using their "market strength" to achieve higher prices across their entire channel portfolios.
Ofcom also noted that the way TV advertising is bought and sold has not changed for almost 20 years, meaning it has not evolved with "commercial and technological changes", such as the growth of multi-channels and emerging digital platforms.
The review has the potential to usher in the most significant change to the TV advertising market since the contract rights renewal (CRR) mechanism was introduced in 2003 to protect competition following the merger of Carlton and Granada to form ITV plc.
In May last year, the commission
ruled that the CRR - which restricts how airtime is sold on ITV1 - should remain in place
, but said that a full review of the TV advertising market was long overdue.
Ofcom's consultation will run until July 22 and the media regulator intends to publish a statement in the autumn, which will either refer the case to the Competition Commission, or give an explanation as to why the market is running adequately without intervention.