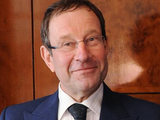 Richard Desmond
, the millionaire owner of Channel 5, has defended his former ownership of adult magazines, while Simon Cowell describes him as "one of the hardest working guys I have ever met".
Desmond sold a range of adult publications in 2004, including
Asian Babes
and
Reader's Wives
, but his Northern & Shell media group still owns Portland TV - home of adult TV channels, Television X and Red Hot.
In an
interview with business broadcaster CNBC airing tonight
, Desmond hits out at the "inaccurate" reports about his reputation as a porn baron, but accepts that he will probably be mounting such a defence until his "dying day".
"Porn to me is illegal and we had magazines which were sold through WH Smith, John Menzies who were wholesalers in this country," he tells former
Good Morning with Anne and Nick
entertainment reporter Tania Bryer.
"Public companies, wholesalers on the same and they were going on the same lorries that the papers go on and everything else goes on. They were sold in retail outlets etc., etc., etc.,
"We had mainstream advertising in them. From, you know, I don't know Rothman's cigarettes to Jaguar cars. Now, you know, at the end of the day, these girls love modelling, they think it's great and they think it's great to go into
Penthouse
or into whatever magazine."
Also speaking on the
CNBC Meets...
programme, Simon Cowell describes Desmond as "one of the hardest-working guys I have ever met in my life".
The
X Factor
mogul adds: "You have done so much over the years but unlike a lot of other people, you don't shout about it, you don't do it for personal gain; you just get on with it."
Almost a year ago, Desmond purchased Channel 5 in a deal worth £103.4m, and immediately imposed a £11m restructuring programme that
resulted in nearly all of the broadcaster's senior staff leaving their posts
. An impressive turnaround at the terrestrial network
helped Northern & Shell to triple its pre-tax profits to £30.3m last year
.
Discussing his reputation for pushing his staff, Desmond accepts that he is "a bit horrible sometimes", and says he can be a "little schizo" in his approach.
"I do empathise, with the editors, you know when they really go for a story and it doesn't quite work," he says.
"Then I go for the opposite way and I'll, I'll try and lift them up a bit. There's nothing worse than feeling down, so I suppose it's, I'm a bit schiz… I'm a little schizo, sometimes aggressive, sometimes nice."
As one of Britain's most successful entrepreneurs with an estimated net worth of £950m, Desmond now mixes with celebrities, heads of state and other media barons.
In the interview, he expresses an admiration for Rupert Murdoch, despite not always agreeing with some of the News Corporation founder's business practices.
"I like Rupert because he's bold and has a go and he leads from the front and I like him. I mean, you, know, without him,
Sky
wouldn't be where it is today, which is a good thing, I should add," says Desmond.
"When he was making three hundred million pounds a year on analogue Sky, he bet the ranch again, and go it all to digital, you know and I think that everyone will agree that digital HD, 3D is fantastic thing.
"Having said that, I wouldn't say he's the greatest manager I've come across. I'm not impressed with certain things that he does but his company is so huge that it's very difficult for one man and he is, you know, not a youngster anymore."
CNBC Meets... Richard Desmond
will air on CNBC tonight at 10pm.