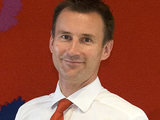 A new alliance of local TV groups has called on culture secretary Jeremy Hunt to revisit his
original plan of creating a national channel for delivering local TV services
, and not be swayed by "vested interests".
Earlier in the month, Hunt
confirmed a significant shift in the government's initial policy for invigorating local television
, effectively dropping the "top down" strategy of creating a national "spine" channel on
Freeview
for delivering local services.
Instead, Hunt said that a "bottom up" approach was now the preferred strategy, involving support for a range of "individually licenced stations".
The Local TV Alliance, including the Channel 6 group, Grimsby's local TV station Channel 7 and former BBC chairman
Greg Dyke
, has written to Hunt urging him to revisit the national channel strategy, which would involve offering regional opt outs for delivering local content.
Introducing the letter, Channel 6 chairman Clive Jones said that Hunt's original vision for local TV was met with "great excitement" from the industry and reflected the belief that local media can "galvanise and transform" local communities
However, Jones noted that the plans were also met by the national media "with reactions ranging from lack of interest through disbelief to outright derision".
"We welcomed the Local Media Action Plan with its proposal for a new national network to support a diverse range of new local stations as the only realistic way to achieve the government's objectives without public subsidy," he said.
"Then just a few weeks ago we heard that Jeremy was now veering away from the network/affiliate model towards the idea of standalone local stations. The same idea of standalone stations that was comprehensively dismissed by
[Lazard media banker] Nick Shott in his report [on local television]
, that has been tried and failed before in this country both by some of our leading media groups and individual enthusiasts, and that was ruled out in Jeremy's own Local Media Action Plan."
Jones noted that the reason given by Hunt for the policy change was that the previous plan would take too long to implement. But he urged the culture secretary to "stick to his guns," and not steer the UK "down a path of fragmented local stations that everybody who's tried it or looked seriously at it knows will not work".
"We've had detailed discussion with Ofcom, we've each taken a close look at our own plans, different in detail as they are, and we've come to a common conclusion. We can still deliver. We stand ready, willing, and able to adapt our plans to accommodate the new realities," he said.
"The need for local TV is more pressing than ever as the BBC cuts back on its own local services, the pressures on local newspapers increase, and ITV threatens to reduce even further its regional coverage. Don't give in to vested interests determined to do all they can to block or diminish what together we can achieve."