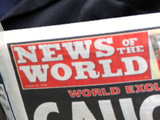 News of the World
hacked into the phones of dead UK soldiers' families, it has been alleged.
The Daily Telegraph
claims that the phone numbers of dead service personnel relatives were discovered in the files of private investigator Glenn Mulcaire.
A News International spokesman said: "News International's record as a friend of the armed services and of our servicemen and servicewomen, is impeccable.
"Our titles have campaigned in support of the military over many years and will continue to do so. If these allegations are true we are absolutely appalled and horrified. We will be contacting the MoD immediately to try and verify the situation."
The report follows claims that the paper also
hacked the phone of murdered schoolgirl Milly Dowler
, as well as
families of people who died in the 7/7 London bombings
, among others.
Prime Minister
David Cameron
has
promised a public inquiry into the "absolutely disgusting" allegations of phone hacking
at the
News of the World
.
Scotland Yard has also told Chancellor George Osborne that his name and phone number were found among Mulcaire's notes, but no suggestion has been made that he was also hacked.
Mulcaire has
blamed the pressure put upon him by News of the World
for the growing list of alleged hacking subjects.
News of the World
editor Colin Myler
sent out an e-mail to all the paper's staff
earlier today, warning of an "extremely painful period ahead".
> Rupert Murdoch backs Rebekah Brooks over News of the World 'phone hacking'
> News of the World bosses 'know who commissioned Milly Dowler hacking'