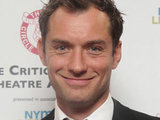 Jude Law
will be contacted by the FBI as part of its phone hacking investigation, reports suggest.
According to
BBC News
, officials want to investigate claims made by the actor that his phone was hacked in 2003 while he was at John F Kennedy International Airport in New York.
Law reportedly believes
that information for a News of the World article from September 2003
was obtained by hacking his phone.
The piece went into detail about his movements within John F Kennedy airport and the hotel he was staying in, including his room service bill.
Law also claims that his assistant Ben Jackson's phone was targeted.
> Ex-News of the World exec 'sacked by The Sun in phone hacking investigation'
> David Cameron 'regrets' hiring Andy Coulson
If the allegations are proven to be true, News Corporation could face charges in the US as Law and Jackson's phones would have been operating on an American mobile network.
Law has also opened legal proceedings against
The Sun
, claiming that the tabloid hacked his voicemail for four articles published in 2005 and 2006.
The actor's British publicist declined to comment when approached by the BBC.
News International
has promised to defend the allegations "vigorously" in a statement released earlier this week.
The FBI has also opened an investigation into
allegations that News Corporation tried to hack the phones of 9/11 victims
.
More on News International and the latest phone hacking claims:
> Hugh Grant, Jemima Khan granted access to police hacking records
> William Shatner: 'Phone hacking scandal is terrible'
> Alec Baldwin calls for David Cameron resignation
> LulzSec hackers 'may not release The Sun emails
> Rupert Murdoch foam pie attacker: Why I did it