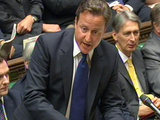 The BBC,
Sky
and ITN have said that they will not respond to
David Cameron
's call to hand over any unused television footage of the UK riots, and instead wait for police to obtain a court order.
Yesterday, the prime minister said at an emergency meeting of parliament following days of rioting and unrest across the UK that the media had a "responsibility" to immediately release any material they had which could help police apprehend those responsible. He said: "Everyone has a responsibility. Media organisations have a responsibility too, and I hope they will act on it."
The Police and Criminal Evidence Act 1984 stipulates that a court order must be secured to obtain any unpublished media material, such as video and pictures.
ITN, the maker of news programmes for ITV and Channel 4, said that despite the pressing need to take action on the riots, the government must stick to standard legal practice.
An ITN spokesperson said: "We expect any request will come from the police. When that happens, we will deal with it as per our established practice for handing over unbroadcasted material."
John Ryley, the head of Sky News, said: "It's business as usual. Our standard policy remains in place and we will of course co-operate with any court orders."
A BBC spokeswoman added: "We have standard processes in place to deal with requests from the police through our litigation department, regardless of the subject matter. Any request would need to be dealt with by the courts."
Speaking on Wednesday on BBC Radio 4's
Media Show
, the BBC's head of newsgathering Fran Unsworth insisted that the corporation would not hand over any footage without first receiving a court order.
"It's a matter of principle for us, we don't just hand over our rushes (un-edited footage) to the police without them going through a proper process which is via the courts," she said.
"It doesn't really matter what the nature of the offences are - if we went down that road of making judgments of the nature of the offences, that would compromise our editorial standards."
Asked whether the BBC's position would change if the footage showed clear evidence of looting or "transparent criminality", Unsworth reiterated that a court order would always have to be in place.
"It is a matter for a court to decide whether it's criminal or not, not for us to decide. It doesn't matter what I think about whether it's criminal or not. These people will probably be picked up by police who will seek to take our rushes from us," she said.
"If they come up with a court order we will probably hand them over because that's the process and the court will decide whether it's criminal activity or not. But we are not in a position to prejudge that."
Reporters and cameramen from the BBC, Sky and ITN
were attacked earlier this week while trying to cover the riots that have blighted London
. A
BBC radio car was set on fire in Salford on Tuesday
as the violence spread to the North of England.
Also yesterday, Cameron said that the government is
exploring whether to ban people from using social networks or texting services during times of unrest if they are thought to be plotting criminal activity
.