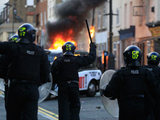 MPs and justice campaigners have said that the lengthy jail sentences given to two men who used
Facebook
to incite rioting in England this month were too "harsh".
Jordan Blackshaw, 21, of Marston, and Perry Sutcliffe-Keenan, 22, of Warrington, were jailed for four years each yesterday after admitting using Facebook to incite disorder, despite the fact that no violence actually resulted.
Judge Elgan Edwards, the Recorder of Chester, said that he hoped the sentences would serve as a deterrent to others. Another man was given 18 months yesterday for being found with a looted TV in his car, reports
BBC News
.
Assistant chief constable of Cheshire Police Phil Thompson said: "If we cast our minds back just a few days to last week and recall the way in which technology was used to spread incitement and bring people together to commit acts of criminality, it is easy to understand the four-year sentences that were handed down in court."
However, Liberal Democrat MP Tom Brake said that the sentences "should be about restorative justice" rather than retribution. Speaking on BBC Two's
Newsnight
programme, Brake said that some of the people convicted would have received very different sentences even a day before the riots started.
More than 2,770 people have been arrested in connection with last week's riots in London, Birmingham, Manchester and other English cities.
As of Tuesday afternoon, 1,277 suspects had appeared in court and 64% had been remanded in custody. This compares to a remand rate of just 10% at magistrates for serious offences in 2010.
The Crown Prosecution Service said that the Facebook offences carried maximum sentences of ten years, but the four-year prison terms were the harshest related to rioting so far.
Paul Mendelle QC, the former chair of the Criminal Bar Association, told BBC Radio 5 Live that if everyone arrested in the rioting is convicted it could cause further social unrest.
"If they go to prison at all or too long they lose jobs and may cause further social disruption and you may find the ultimate cost to the community is greater than the original crime for which they were punished," he said.
"When people get caught up and act out of character, in a similar way, there is a danger that the courts themselves may get caught up in a different kind of collective hysteria - I'm not suggesting violence or anything like that - but in purporting to reflect the public mood actually go over the top and hand out sentences which are too long and too harsh."
However, communities secretary Eric Pickles told BBC Radio 4's
Today
programme that it was important to show the consequences of crime.
"We need to understand that people for a while thought that this was a crime without consequence - we cannot have people being frightened in their beds, frightened in their own homes for their public safety," said Pickles.
"That is why these kind of exemplary sentences are necessary. I think people would be rightly alarmed if that incitement to riot got off with just a slap on the wrist."
The sentences come after Prime Minister
David Cameron
said last week that the government was
considering banning people from social networks such as Facebook and Twitter during times of unrest if they were found to be plotting violence
.
Yesterday, it emerged that MI5 is
assisting the police investigation into the people who used Blackberry Messenger to incite last week's riots across the UK
.