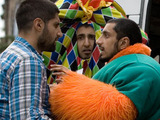 Chris Morris
's comedy
Four Lions
is to have its UK television premiere ahead of Channel 4's season of programmes marking ten years since the 9/11 attacks in America.
Other shows in the season include documentaries on the emergency services helping people at the World Trade Centre, the controversial Ground Zero mosque, and the killing of Osama bin Laden this May.
The season was revealed at the Edinburgh International Television Festival at the weekend by Channel 4 chief creative officer Jay Hunt.
Four Lions
, which follows four aspiring yet incompetent jihadists as they attempt a terrorist attack on the London marathon, will be shown on channel 5 on September 4.
There had previously been rumours that Morris was keen for the film to have its television premiere on the actual day of the anniversary.
Speaking during a session at the festival called 'No Risk Please, We're Primetime', Hunt said that she had "an interesting and rather robust conversation" with the
Brass Eye
creator about the scheduling of
Four Lions
, but had decided against running the film on September 11.
However, Hunt - who was previously controller of BBC One - said that she was keen to put the movie within the other 9/11 anniversary programmes on Channel 4 "because it speaks to that issue".
Morris has previously said that
Four Lions
shows "the
Dad's Army
side to terrorism", but last summer
families of the victims of the 7/7 bombings in London appealed to cinemas not to screen the film
.
> Read our live blog of Hunt's 'Meet the Controller' session at the festival