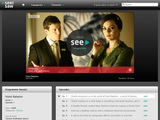 Former Channel 4 chief executive Michael Jackson has reportedly walked away from his role as chairman designate of SeeSaw, as the online TV site struggles to secure its financial future.
Criterion Capital Partners,
which saved SeeSaw from closure in July after agreeing a deal to acquire 75% of the site from previous owner Arqiva
, had intended for Jackson to transform the struggling video on-demand website.
The company, which also owns social network Bebo, had a transition agreement in place with Arqiva requiring it to raise multi-million pound funding by August 31 to revamp SeeSaw, and establish its 28-strong team of employees in new headquarters.
However,
The Guardian
reports that the deadline was extended after the company struggled to secure the funding from its lead backer in the investment consortium Weston Capital.
The newspaper says that the delay has meant that Jackson has decided not to take up the role of SeeSaw chairman, even if a financial deal is eventually reached.
Jackson, a former controller of BBC One and BBC Two, is currently a director at Scottish broadcaster STV and a senior advisor at internet firm IAC.
Yesterday, it emerged that Criterion was struggling to renegotiate its content deal with Channel 4,
meaning shows such as The Inbetweeners and Skins had fallen off the web-TV site
.
Arqiva created SeeSaw after spending £8m to acquire the IPTV technology developed for Project Kangaroo - the BBC Worldwide, ITV and Channel 4 joint venture that was blocked by the Competition Commission. The transmission operator invested heavily in acquiring more than 3,000 hours of on-demand programming for the site, attracting around 900,000 unique visitors a month.
Arqiva, which
initially announced plans in May to close SeeSaw after failing in its 16-month search to find a buyer
, is to retain a 25% stake in the company under the new arrangement, although the funding delay could put this in question.