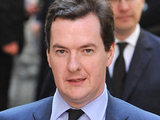 Natalie Rowe, the former escort agency boss who is thought to be friends with chancellor George Osborne, has claimed that her phone was targeted by the
News of the World
.
Rowe told Australia's
ABC News
that officers from Scotland Yard had informed her that her mobile number was listed in the notebooks seized from the home of
Glenn Mulcaire
, the private investigator jailed for phone hacking on behalf of the defunct Sunday tabloid.
Rowe, who ran the Black Beauties escort agency in the 1990s, disclosed details of her friendship with Osborne in a
Sunday Mirror
article in 2005, claiming that they had taken cocaine together. Osborne has always denied the allegations.
Speaking on ABC's
PM
programme, Rowe said that she was "surprised" to see the story also appear in the
News of the World
, then edited by Andy Coulson, on the same day.
Both newspapers published an old picture of Rowe and Osborne together, with a white powder, alleged to be cocaine, in front of them.
At the time the stories were published, Osborne issued this statement: "The allegations are completely untrue and dredging up a photo from when I was 22 years old is pretty desperate stuff.
"This is merely part of an absurd smear campaign to divert attention from the issues that matter in this leadership contest and I am confident that people will not be distracted by this rubbish."
But Rowe repeated her claims about Osborne taking the drug in the ABC interview, saying: "George Osborne did take cocaine on that night."
Also speaking to ABC, Rowe's solicitor Mark Lewis noted that Andy Coulson was editor of the
News of the World
at the time the story was published.
He said: "I think that's worth remembering because of the future relationship that we have between the Conservative party, the prime minister and Andy Coulson".
Osborne has since
said that he regretted advising David Cameron to hire Coulson as the Conservative party's communications director
, a move that has been widely criticised after the phone hacking scandal.
Last Friday, Rupert Murdoch
said that the phone hacking allegations against the News of the World have been a "major black eye" for his News Corporation
.