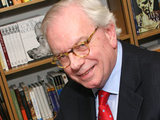 David Starkey
has been cleared by Ofcom over comments he made on
Newsnight
in August.
The BBC received
nearly 700 complaints
after the 66-year-old claimed that the "whites have become black".
Of the complaints, 103 claimed that his remarks breached rules about race discrimination or racial offence.
However, the broadcasting watchdog has now said in a statement that it would not take matters any further.
An Ofcom spokesman confirmed: "The presenter moderated the discussion and Mr Starkey's comments were countered by other guests on the programme."
The historian previously
defended his comments and blasted the "hysterical" reaction from the media
.
Watch David Starkey's original comments on
Newsnight
below: