The BBC has been criticised by deaf campaign groups over "ludicrous" computer-generated subtitles that branded the Labour leader "Ed Miller Band" and announced a visit by the "Arch b**** of Canterbury".
Hard-of-hearing viewers have been left "utterly perplexed" over a string of bizarre errors in subtitles during BBC programming, including the Ireland rugby team last week being renamed "Island".
In January, a
BBC Breakfast
item featured a reporter visiting a farm and speaking of how the pigs "love to nibble anything that comes into the shed, like our wellies."
The subtitles, however, changed the last word for "willies" and the incident became an internet sensation after a picture was posted online.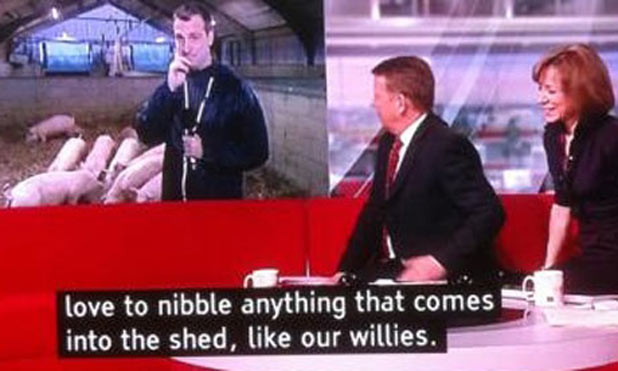 During the Queen Mother's funeral earlier in the year, the subtitles also called for "a moment's violence" for the deceased Royal.
Such errors have become so regular that a website has been set up by viewers.
Some subtitles are pre-recorded before the show goes out, but live subtitles are done by a stenographer typing words phonetically as they listen to a show.
But the BBC will also use speech recognition, involving someone speaking into a microphone and a computer picking up the words. This method can lead to words being switched, sometimes with embarrassing results.
Emma Harrison, the director of public engagement at Action on Hearing Loss, said that she receives a regular stream of complaints about errors in subtitling.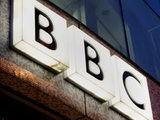 "Access to television is really important to people with a hearing loss," she told
The Daily Telegraph
.
"We urge all broadcasters to monitor the quality of their subtitling to ensure high standards, and invest in technology to reduce mistakes so people with hearing loss can access television in the same way as hearing people."
Harrison would like to see media regulator Ofcom "play a greater role in monitoring subtitling complaints", as it does for broadcast content and standards.
She added: "As part of the government review of the Communications Act, we are calling for new laws to provide full access to television entertainment, and want subtitling to be available on all programmes, regardless of whether it is traditional or catch-up TV."
A spokesperson for the BBC recognised the importance of subtitles and said that the corporation was "constantly striving to improve accuracy" in the service.
"We recognise that subtitling is a hugely important service, and we endeavour to ensure it is as accurate as possible," they said.
"There are occasions, particularly during live broadcasts, when mistakes will happen but we do all we can to keep this to a minimum and are constantly striving to improve accuracy."‬
> BBC quietens Cox show after complaints
> BBC to cut 2,000 jobs, scale back services