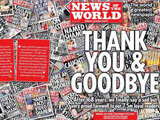 News International
will donate £2.8 million from sales of the final edition of the
News of the World
, it has emerged.
Tom Mockridge, the former Sky Italia boss who
replaced Rebekah Brooks as chief executive of the newspaper publisher in July
, told staff in an email that the Sunday tabloid sold 3.8m copies for its last edition.
The Guardian
reports that the £2.8m charity donation was calculated after the 26p per copy charge from wholesalers and distributors was removed from the revenue.
It is understood that the money will go to the Forces Children's Trust, Barnardo's and Queen Elizabeth Hospital Birmingham, the three charities named in the paper's final edition on July 10.
The three organisations will get £933,000 each, and Mockridge revealed that five charities in Ireland will split the earnings from the Irish sales of the £1 paper.
News International
opted to shut down the News of the World in July
after the 168-year-old newspaper was dogged by a string of shocking allegations of phone hacking.
Mockridge also informed staff that 65 former staff on the paper have been redeployed in jobs within the newspaper publisher, including 30 who were retained on the
Fabulous
celebrity magazine now given as a supplement in
The Sun
on Saturday.
It is understood that 20 former
News of the World
employees have taken jobs at
The Sun
, while a further 11 have joined News International's mystery digital startup. Others have moved to
The Sunday Times
or the company's technology department.
A total of 81 employees left the
News of the World
after its closure, while around 20 were offered jobs within News International but turned them down. That leaves a further 100 that have been made redundant from the paper.
Speculation is growing that News International is
preparing to take The Sun seven days a week to avoid missing out on the lucrative Sunday newspaper market
.