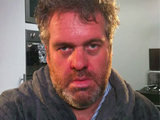 Chris Moyles
's breakfast show on BBC Radio 1 lost more listeners in the third quarter of 2011, despite the station reaching its biggest audience in more than a decade.
Moyles saw his audience hit 7.16 million listeners every week in the three months to September 18, up from 7.10m last year, but a sharp decline on the 7.44m in the previous quarter, according to audience data published today by RAJAR.
He also lost out to Radio 2's
The Chris Evans Breakfast Show
, which attracted 8.86 million listeners every week, up from 8.41m last year and 8.67m last quarter, giving the show its third-highest ever weekly reach.
Radio 1 reached 11.85m listeners each week in the third quarter, the station's biggest audience since the new research methodology was introduced in January 1999.
The network was up from 11.65m last year and 11.69m last quarter, while its share of listeners increased to 9.1% from 8.5% last quarter, although it was flat on the same period last year.
In total, the British public listened to 586 million hours of BBC Radio every week in the three months to September 18, the largest total since the first quarter of 2008. The average BBC radio listener now tunes in for nearly 17 hours per week.
Tim Davie, the director of BBC Audio & Music, said: "It is excellent to see people listening to so many hours of BBC Radio. In particular, the record Radio 1 figures reflect both the distinctiveness of its programmes and the strength of an outstanding team.
"I'm also very pleased to see that the combined efforts of the radio industry are resulting in a clear transition of listeners into digital radio. The rise in internet listening is noteworthy and represents encouraging growth in the sector."
Radio 2 topped 14 million listeners for the fourth time in Q3, registering an audience of 14.31m, up from 13.68m last year and 13.97m last quarter, and with a share of 15.9%, up from 15.6% last year and 14.9% last quarter.
However, Radio 3 saw its weekly audience slump to 2.05m listeners from 2.15m last year and 2.17m last quarter. The network's share was 1.1%, down from 1.2% last year and last quarter.
Radio 4 was also down, reaching 10.56m people each week, up from last year's 10.37m but down from last quarter's record of 10.85m. Its share was 12%, down from 12.4% last quarter.
The station's flagship
Today
programme attracted 6.76m listeners per week, up from 6.51m last year but well below the previous quarter's record of 7.18m. Radio 4 Extra, the station rebranded from Radio 7, posted a weekly reach of 1.53m from 1.61m last quarter.
Buoyed by the continued popularity of
Test Match Special
, Radio 5 Live posted a combined reach with sister station 5 Live Sports Extra of 6.43 million listeners, up from 6.44m last year, although a slide on 6.68m last quarter. The station's share was 4.6%, down from 4.9% last year and last quarter.
Radio 6 Music attracted 1.23m listeners per week during the period, up from 1.20m last year but down slightly on the 1.27m last quarter, while the BBC Asian Network's weekly reach was 507,000, up strongly from 471,000 last quarter.
Radio 1's sister station Radio 1Xtra posted a weekly reach of 904,000, up from 806,000 last year but down from 992,000 for the last three months.
BBC World Service posted a UK reach of 1.5m from 1.32m last year, while the portfolio of BBC local/regional stations reached 9.5m listeners per week, down from 9.65m last quarter.
All BBC Radio had a weekly reach of 34.86m, up from 34.24m last year but a significant slide from 35.53m last quarter. The stations had a share of 54.5%, up from 54.3% last year and 54% last quarter.