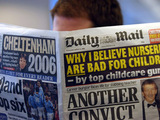 The UK attorney general has won permission to bring contempt of court proceedings against two national newspapers over their coverage of the conviction of the murderer of schoolgirl Milly Dowler.
Two judges at the high court in London today gave the go ahead for Dominic Grieve QC to pursue contempt cases against the
Daily Mail
and
The Mirror
, reports
PA
.
The cases stem from both newspapers reporting on the conviction of nightclub doorman Levi Bellfield on June 23 this year of the abduction and murder of 13-year-old Dowler.
The trial jury was still to reach a verdict on a second charge against Bellfield, that he tried to abduct 11-year-old Rachel Cowles the day before he snatched Dowler in Walton-on-Thames in 2002.
However, trial judge Justice Wilkie had to discharge the jury on June 24 from returning a verdict on the second charge, because the publicity following Bellfield's conviction of Dowler's murder was so big that it ran the risk of prejudicing the case.
Lord Justice Moore-Bick and Justice Bean heard the argument from lawyers representing the two newspapers that their coverage would not have created a "substantial risk of serious prejudice".
The two judges then granted permission for Grieve to pursue contempt proceedings, after deciding that he had an "arguable" case against them.
A full hearing of the contempt allegations will now be held at a later date.
> Phone hacking made Dowler family think Milly was alive
The attorney general has already brought various contempt cases against the media this year, including one against two newspapers for coverage of the arrest of Christopher Jefferies, the landlord of the murdered landscape architect Jo Yeates.
The Mirror
was fined £50,000 and
The Sun
£18,000 for their coverage of the arrest of Jefferies, who was later cleared on any involvement in the murder.
Yesterday, Grieve
won permission to launch contempt of court proceedings against Sky News
over the broadcaster's coverage of the rescue of kidnapped couple Paul and Rachel Chandler.