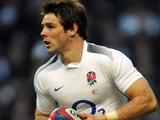 The BBC has secured exclusive UK broadcasting and online rights to coverage of the Six Nations rugby tournament up to March 2017.
The corporation's current deal, due to expire in 2013, has been renewed with the Six Nations Committee, meaning it will continue to cover the event on television, radio and online.
The BBC, which is
cutting its budget for sports rights bidding by 15% as part of the Delivering Quality First initiative
, said that the tournament is "a crown jewel in the sporting calendar".
This year's Six Nations tournament saw viewing figures hit their highest level for 13 years, attracting an average audience of 4.7 million per match. According to the corporation, a total of over 30m people within the UK watched some of the 2011 event.
"The Six Nations is a crown jewel in the sporting calendar and we're delighted that we can continue to bring the tournament to our audiences," said BBC director of sport Barbara Slater.
"Viewing figures continue to grow year on year and we look forward to continuing to work in partnership with the Six Nations to build interest even further through the BBC's unparalleled offering of TV, radio, online and interactive services."
RBS Six Nations chief executive John Feehan added: "We are delighted that BBC Sport will maintain, extend and enhance its coverage of the RBS Six Nations, the world's biggest annual rugby tournament, for a further four years to March 2017.
"The RBS 6 Nations is a major sporting event combining traditional rugby values with modern means of fans' support. This could not be possible without the support of BBC Sport, RBS and our other partners and broadcasters."
Due to the reduction in money available for sports rights, the BBC is increasingly having to make concessions in its sports coverage, picking the events it deems most important to viewers.
Earlier this month, ESPN agreed a partnership deal with the BBC to jointly broadcast coverage of the World Professional Darts Championship in January 2012.
The BBC also agreed a
controversial similar deal with Sky earlier in the year for Formula One coverage from next season
, and ITV
poached the rights to the French Open tennis tournament in October
.