The first ever dedicated Channel 4 News weather presenter will make his TV debut tonight as part of a new weather service from the broadcaster.
Liam Dutton
, who joined Channel 4 News from the BBC, will deliver his first weather report this evening, starting with a story on how this year's low rainfall could mean a drought next summer. He will start presenting a regular weeknight forecast from December 12.
The weather presenter role,
first announced in June
, will encompass reports on weather news stories, along with live studio discussions with the presenting team when the weather is in the news.
Dutton will also become the face of Channel 4's new online weather service, including blogs, news articles and social media engagement with viewers.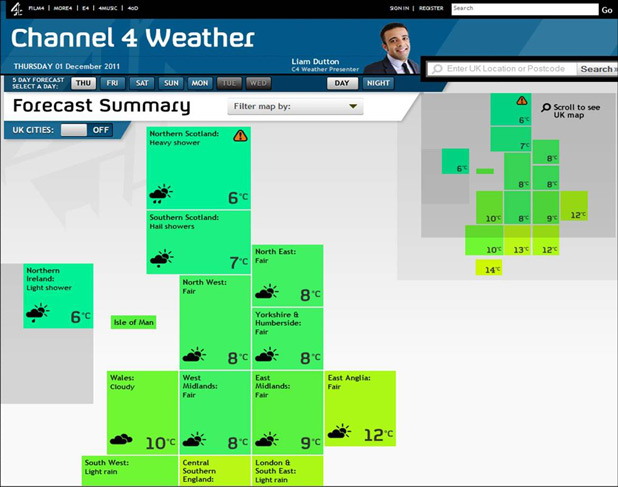 Instead of a traditional weather map, the dedicated weather website will divide the UK into 14 blocks with graphics and information on each area, supplied by MeteoGroup.
Users can click on their chosen region to access more detailed information on their local area, including wind speed, cloud cover, humidity and the chance of rain or snow, over a five-day period.
Dutton started his broadcasting career at the BBC Weather Centre and presented his first forecast at the age of just 22. Most recently, he has worked across BBC News, BBC World News,
BBC Breakfast
and Radio 4's
Today
programme.
"It's fantastic to be involved with Channel 4 at the start of this new move into weather," said Dutton.
"I know from the conversations I have through social media that weather is an increasingly popular topic of discussion, particularly as it becomes more unpredictable.
"I'm looking forward to leading a service that will encourage that interaction and explain the UK's weather in a completely new way."
Channel 4 commissioning editor of new media, news and current affairs Vicky Taylor added: "We want to deliver the weather in a way that is completely distinctive - but also, crucially, easy to use and interpret.
"We think this website communicates all the values of the news programme, and Liam's personality, and through cutting edge design and functionality will offer a totally new way for users to engage with the weather."