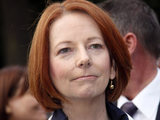 Two Triple J radio stars have launched a tirade against Australian Prime Minister
Julia Gillard
and her partner Tim Mathieson.
Brendan MacLean and Paul Verhoeven branded Gillard a "wh*re" over her reluctance to legalise gay marriage in Australia shortly before she began the ALP national conference today.
MacLean first wrote on his
Twitter page
: "Just because you don't want to marry your gay boyfriend doesn't mean I shouldn't be able to marry mine."
Verhoeven suggested on
his page
that someone should put "meths" into the conference's drinking water to turn it into "a wild sex game" and wrote "Boo you, wh*re" to the prime minister.
The broadcaster later deleted this
Mean Girls
-inspired statement "because the ABC were copping complaints" from people who had not seen the film and therefore didn't understand the line.
MacLean later insisted that he only called Mathieson "gay" because he "seemed like a happy kind of guy".
Verhoeven described the gay marriage debate as "more vital and deserved than pretty much any other issue in Australia right now", adding: "Quote me on that, you prolapsed anuses." He also said that none of his opinions "reflect those of the ABC" because he is a "casual employee".
Maclean later wrote: "Apologies if Gillard or Mathieson feel hurt by me or @PaulVerhoeven. Being told you can't marry the person you love hurts a little too."
Earlier this year, Gillard and Mathieson were parodied in
comedy series
At Home with Julia
.
Gillard insisted in September that
she had not seen At Home with Julia
, saying that she "had more to do" than watch a show based on herself.