113
Media News
Jeremy Clarkson complaints to BBC top 21,000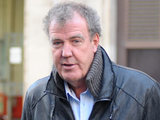 The BBC has received more than 21,000 complaints about controversial comments made by
Top Gear
presenter Jeremy Clarkson that public sector workers on strike should be shot.
The 51-year-old has been roundly criticised after he made a series of outlandish claims about public servants,
suggesting that they should be executed for going on strike over their "gilt-edged pensions"
.
His comments, made on
The One Show
, were condemned by prime minister David Cameron and Labour leader Ed Miliband, while public sector union
UNISON
has called on the BBC to sack him.
As of 9.30am this morning, the corporation's Audience Services division said that it had received 21,335 complaints about the situation.
This is just behind the 'Sachsgate' scandal on BBC Radio 2 in 2008, when
Jonathan Ross
and Russell Brand left lewd messages on the voicemail of Andrew Sachs, provoking 27,000 complaints.
A BBC spokeswoman confirmed that due to the number of complaints about
The One Show
broadcast, it would not be made available for catchup on BBC iPlayer. It is not clear how many complaints have also been submitted to media regulator Ofcom about the situation.
Clarkson, who is currently in China, has said that his comments were not meant to be taken seriously, and claimed that he was "happy to apologise" over any offence that had been caused.
The BBC has also apologised for the incident, but it
emerged today that the corporation was pre-warned of Clarkson's intended comments before transmission
, potentially deepening the scandal.
Clarkson, a friend of prime minister David Cameron, has said that his comments were taken out of context, and claimed that he was actually poking fun at the BBC.
Speaking to
The Mirror
, he said: "I support the strikers in the first part. I said it was like being in the 1970s, my favourite decade. Then I said, but this is the BBC so we have to be impartial, and I expressed an extreme version of the other side of the coin, neither of which I believe.
"I expressed two different views. Which one do I apologise for? I am just making fun of the BBC's need to be impartial. Not about strikers. I wasn't saying that strikers should be shot."
The newspaper quoted a BBC insider as saying: "After the delay in apologising over the Sachsgate [scandal] involving Jonathan Ross and Russell Brand we were not going to make the same mistake twice. Clarkson was told he had to apologise or face possible action.
"He wasn't happy, but eventually he agreed as long as he worded it minutes before he boarded a flight to China. The fact the word 'sorry' was missing speaks volumes."