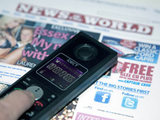 A 41-year-old man has been arrested on suspicion of phone hacking and perverting the course of justice, according to Scotland Yard.
The man was detained by police at 7am today and is being held at a South London police station.
His identity is not known but it is understood that he is not a police officer.
The man becomes the 18th arrest in Scotland Yard's Operation Weeting investigation into phone hacking, including former News International chief executive
Rebekah Brooks
and ex-Downing Street communications chief Andy Coulson.
A police spokesman said: "At 7am officers arrested the man at an address in London on suspicion of conspiring to intercept voicemail messages, contrary to Section 1 (1) Criminal Law Act 1977 and on suspicion of perverting the course of justice contrary to common law.
"The man is currently in custody at a South London police station. It would be inappropriate to discuss any further details at this time."
The Met Police's Operating Weeting team is investigating the hacking of mobile voicemail messages of public figures by the
News of the World
.
The phone hacking scandal has already resulted in the closure of the Sunday tabloid by publisher News International and the resignation of Met Police Commissioner Sir Paul Stephenson and Assistant Commissioner John Yates.
It also prompted prime minister David Cameron to launch an inquiry led by Lord Justice Leveson to investigate press standards and ethics.
Last week, police
made the first arrest in the parallel Operation Tuleta probe into allegations of computer hacking
.
It is understood that Bethany Usher, a former
News of the World
journalist and current lecturer at Teesside University, was arrested over conspiracy to intercept internet communications.
She was later released on bail and issued a strong denial of any involvement in the "interception of telecommunications".
Lord Leveson Inquiry coverage roundup:
> Phone hacking made Dowler family think Milly was alive
> Ex-News of the World journalist defends 'honourable' Milly Dowler phone hacking
> Alistair Campbell hits out at putrid press
> JK Rowling criticises 'threatening' press treatment
> Harry Potter newspaper articles criticised by JK Rowling
> Sienna Miller 'baffled and intimidated' by press intrusion
> Madeleine McCann parents Kate and Gerry 'violated' by press intrusion
> Phone hacking goes beyond News of the World, says lawyer
> Steve Coogan: Newspaper industry is like the mafia
> Hugh Grant suspects Mail On Sunday of phone hacking
> Charlotte Church offered coverage deal to sing at Rupert Murdoch wedding